Earlier this month, Manchester Moves presented the City of Manchester with a check for the remainder needed to secure matching funds for the completion of the Piscataquog Trail, particularly the bridge connecting the West Side rail trail with the Goffstown Trail.
Including Manchester, which is developing an extensive trail network thanks to Manchester Moves, the towns between Goffstown and Salem–Goffstown, Manchester, Londonderry, Derry, Windham and Salem–all have rail trails in various stages of completion.  Eventually these trails will be connected in a manner similar to the very successful Minuteman Bikeway north of Boston, and Northern Rail Trail in Grafton and Merrimack Counties, linking four of the state's 10 largest communities along a recreational trail.
Salem resident, recreational bicyclist and frequent ArchBoston poster Monopolybag recently rode the partially completed trails from Salem to Manchester, and wrote up a nice report about the problems and potential of southern New Hampshire's rail trails:
Recently, a friend and I decided to bike the Windham Rail Trail from Salem, which we have done before, but we decided to try to make it to Manchester.
We started out in Salem, which lags behind some other communities in paving their portion of rail trails.  We parked our car at Cycles Etc. and headed north.  Salem is going to pave down to Old Rockingham Road, which is good, but I wish it was further–much further.  It could easily be paved down to the Methuen line as it is fairly flat and clear already, with most of the rail already gone.
Windham and Derry have done a nice job paving their portions, with two parts paved and one trail "closed" with paving  finishing up–we went on it anyway; it was muddy but we made it.  You can easily make it from Windham into Derry center.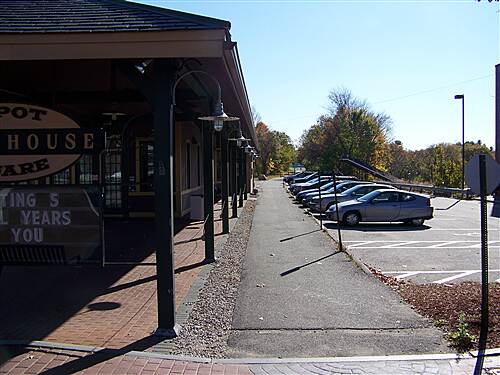 Past this you enter a park in Derry, and the trail peters off before you cross a road into Londonderry where the trail is very confusing. If you can stay on it, you then cross a stream, which was up to our knees as we crossed it, and was very cold.  The trail then turns and crosses under the new I-93 construction and again is "closed" but you can go through there.  We had to avoid a small bridge over some water and go into the parking lot at the North Londonderry park-and-ride bus station, then head back into the woods to get the trail, pass the Coke bottling plant, and then into some brush where the trail is hard to ride.
North of there, the Londonderry rail trail is still a rail, and is too bumpy to ride, but a convenient, yet muddy road follows a gas line next to it and crosses through the necessary swamps and woods to reach the edge of Harvey Road.  From there you must travel about six miles around the airport to get to the rail trail again north of Perimeter Road, only then to find out that, after a few hundred feet into the woods, the trail–with the track still there–leads to a bridge that is blocked off.
Because the bridge was closed, we did not ride the recently paved South Manchester Rail Trail.  To do so, we would have had to ride out of our way down a side street, then back to ride on it, as it is not connected to any other trails.  So we turned around and continued along South Willow Road which does have a sidewalk, but is not too enjoyable.
We went all the way to Lowell Street, went to the Red Arrow for dinner, and managed to finish in time to catch one of the few Boston Express buses leaving from Manchester southbound to Salem.  The ticket was $8, and as long as they have room for bikes they let you put them below.  We got off at the Exit 2 and biked back to Cycles Etc. along Route 28.
The lack of bike racks throughout the city was a problem. At the Red Arrow Diner, they have one tiny bike rack off to the side, but it is hard to chain your bike to it and the whole rack can be moved.  The bus station in Manchester didn't seem to have bike racks at all!  Yet the newer Londonderry stop had plenty of high quality ones.
The trail groups in towns and cities between Goffstown and Salem have good intentions, but the trails are coming along too slowly.  Still, what was paved–even in Windham, the least populous town on the trail–was used a lot.
All in all, I would not recommend this ride to anyone yet as the trails are not complete, very long and time consuming due to having to deal with blocked bridges, trails, construction, and other impediments. But we did it, and I personally can't wait until bike trails are more complete here in New Hampshire.
---
This is one in an ongoing series of posts by guest contributors on LivableMHT. LivableMHT seeks the input and contribution of members of the Manchester community, as well as those with insight into livability locally or globally. If you have information, ideas or thoughts to share, please contact us.